Uutiset
Midsummer Bridge 2014 Tournament report
www.bridgefinland.com (2014-06-11 12:26:03)
All junior teams and their captains gathered together at pla
Midsummer Bridge Tournament was held third consecutive time at Tuusula, Helsinki. Onnela Inn provided again friendly and at the same time effective services to all players taking part to the event. Junior players were again in the main role in this event.
Midsummer 2014 Invitational Junior Teams Competition
This year we had junior teams from Norway, Estonia, Latvia, England and Scotland. There were two teams from Estonia and two teams from Finland so there were eight teams taking part to our Midsummer Bridge Invitational Junior Teams Competition held on Friday 6th of June.
Junior Teams Competition was tight to the last round. Norway U20 team was leading after 5th round, but it still had games against England U26 and Latvia U26 teams left.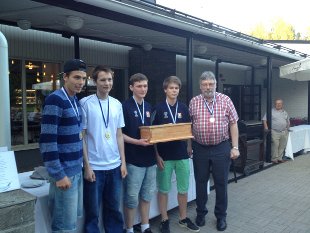 Winners: Norway U20 team
When they survived not to lose heavily against England U26 and managed to beat Latvia U26 team, they were ready to celebrate their victory. England U26 team become the second place and Finland U26 team the third.
Juniors played 70 boards during a day. There were of course many good plays and defenses during a day, but only one of each category could be selected as worth a prize:
Midsummer Bridge 2014 Invitational Junior Teams Competition: Best defense: Espen Flaat and Christian Bakke, Norway U20 team:
Espen Flaat and Christian Bakke defended 3NT against Basil Letts and Ankush Khandelwal at board number 18, which is showed below: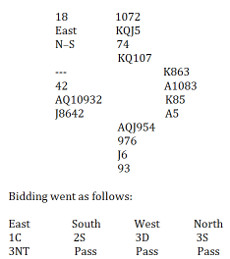 Best Defence
1C promised only 2+ cards. Espen Flaat hoped that declarer´s 3NT bid was based on a fit in diamonds, a couple of aces or fast tricks and something in spades.
Silver medalists: England U26 team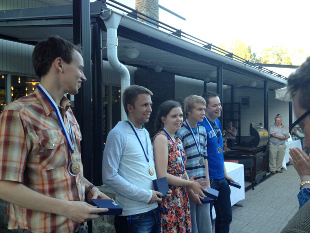 Bronze medalists: Finland U 26 team
He chose a nine of hearts as a lead. That went to Christian Bakke´s jack, and declarer ducked. Next came ten of spades, which held. Then Christian played seven of spades to the eight and nine. Now Espen did not take his ace of spades but continued a heart, and declarer was doomed to make only eight tricks. That was very well done!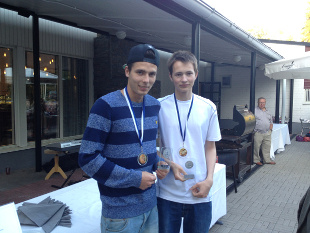 Best defense prize: Espen Flaat and Christian Bakke, Norway
Midsummer Bridge 2014 Invitational Junior Teams Competition: Best played hand: Vesa Fagerlund, Finland U26 Team
Vesa Fagerlund read opponents´ hands perfectly on board number 10 in a first match against England U26 team. Again opponents on that board were Kamil Basil and Ankush Khandelwal. (Perhaps we should try to find weaker opponents against them next time?)
The board is showed below:
Best played hand
Vesa could have bid 3S instead of 5C, but this time the contract would had been the same anyway. East started with seven of spades. It went to an ace. Back came spade to a queen and king. When East then continued a heart, which went to a ten, Vesa ruffed a spade to the table. If West´s small heart was a true card he should have both missing queens. Based on that assumption Vesa took a finesse in trumps, which turned out to be the winning line on that board. Many players played 3NT from North´s side, which this time is the winning bid, but anyway finding a right play in 5C kept the loss in only 1 imp on that board. (What a false card opportunity if West had for example Qxx in hearts and 10x in clubs and he would play only small heart instead of queen! But not so this time.)
Best played hand: Vesa Fagerlund, Finland U26
There was no prize for best bidding this time. I am certain there were many well bid hands in this competition where both junior players made right decisions in bidding sequence but this bidding sequence at least led to a contract that was not bid in any other table. Norwegians Marcus Scheie and Joakim Saether bid as follows against Scottish players Ronan Valentine and Liam O´Brien 6D on round 5 as follows:
Best bid
1D was natural and promised at least 4 cards. 2D was inverted raise in diamonds. 2S was reverse bid and forcing to game. 3H showed strength in hearts, 4D showed real diamonds. 4NT was Blackwood and 5C showed 0 or 3 aces out of five. 5NT confirmed that there were no ace missing and also no missing trump queen. 6D denied any more side kings.
I am not all that convinced about this bidding sequence, but, nevertheless, this was only bidding sequence that led to a right contract. You can´t argue with success, they say.
There were also other activities during the tournament. There was a church boat rowing competition for juniors at Saturday after the Main Pairs Competition. If you are interested what the church boat is, please go to Google and write there either church boat Finland or Finnish church boat and you will find more information about it.
Winners´ church boat before the race.
In this race every junior was involved. Race was not even close: Team A with Finland U26 team, Estonia U20 team, England U26 team and Norway U20 team was clear winner before Team B with Scotland, Finland U20, Estonia U26 and Latvia U26.
However, we have in Finland a term called sisu, which means inner strength of a human, and that is highly appreciated in Finland. This time we had an old string vest as a prize for a person who did his best in a rowing competition:
Happy winner of sisu-prize, Liam O´Brien from Scotland.
There was one more Challenge Cup donated for Main Pairs Competition. This time winners came from Estonia:
Mr. Finn Wardi presenting a new Challenge Cup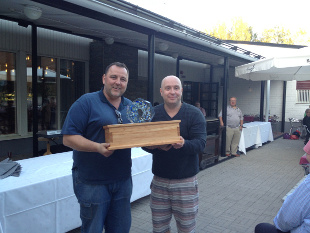 Winners of Main Pairs: Jaanus Maripuu and Sven Sester
There were also other competitions: Midsummer Bridge 1st Pairs Competition on Friday, Midsummer Bridge IMP Pairs Competition on Friday and Main Teams Competition on Sunday.
You can find all results on our web site, but here are the winners:
Midsummer Bridge 1st Pairs Competition: Janis Ozols and Edite Klidzeja from Latvia,
Midsummer Bridge IMP Pairs Competition: Vahur Kurig and Jyri Aava from Estonia, and
Midsummer Bridge Main Teams Competition: Team KAAPO, Seppo Sauvola, Tero Koivu, Kari Patana and Juho Granström from Finland.
At last I would like to show you one hand from Main Teams Competition:
What contract would you like to reach with K52,A96,1042,AQJ5 against AQ864,KJ72,AK,K7? If spades behave, a grand slam would be nice to bid, otherwise 6NT would be the best. I and my partner bid 7S. Not right this time; spade was 5-0. No worries, this match was against Finnish
younger juniors; they constantly overbid themselves too high. They had bid 7S, too, so this was even board. You can try to figure it out which is the best line in playing 6NT; all too many players went down with this one. (You´ll find also this deal from our web site. It is board number 44.)
This tournament was success in more than one way: we had great venue, good weather, nice visitors, and, most importantly, this tournament was good advertising for junior bridge.
I hope seeing you all coming to Finland next year!
June 10th 2014 -- Mauri Saastamoinen